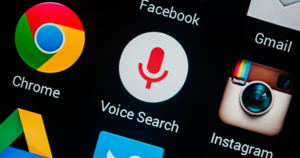 It may sound like it is the end of SEO, but that's not the case. Voice search is said to be the future of SEO. It is the fastest growing type of search and it is evolving. Siri, Google Now, and Cortana are just the start. Voice Search gets combined with GPS data, so when you voice search for the location of the nearest gym in Pokemon Go…Google knows!
For Google, they aim to transform voice search into an ultimate mobile assistant that will help you with your daily life. Did you know that Google's AI engine are being fed by nearly 3,000 romance novels in order to improve its conversational search abilities and enhance its ability to interpret search queries?
Voice search today is capable of correcting spelling of queries, interpret follow up questions of your previous query and has the power to provide users with results based on their interest and information. Since conversational search are becoming more important in voice search, we need to learn and implement voice search strategy to our websites to keep up with the changes. We should not only focus on text-based queries.
Factors we need to consider for voice search optimization:
Content – re-evaluate your site's content by changing the tone to be more conversational focusing on natural phrases. Use adverbs such as "Who", "What', "Where" and "Why". These are the common terms used at the beginning of voice search queries.
Long Tail Keywords – consider using conversational keywords. It may include filler words like "a", "for" and "me".
Schema markup – HTML add-on coding that provides further information to search engines to help them understand the context of your content which may give a boost to your ranking in normal searches and in voice search. Try to maximize schema markup opportunities.
Site's Microdata – make sure your location data and XML sitemaps are optimized as this provide quick answers to the searchers requests.
FAQs Page – make room to add a page that answers FAQs and answer them in a conversational tone.
Mobile Friendly – check and make sure your site is fast and mobile friendly since most voice search is happening on a mobile device.
30 % of Search Results are Now HTTPS
A case study of Dr. Pete Meyers of Moz found an increased rate of HTTPS in Google search results. Remember two years ago when Google announced that HTTPS are a ranking signal? He believes it is an indication that Google's PR campaign is working and predicts that HTTPS would really strengthen this ranking signal. As they may be risks on switching, he recommended that if you're still not sold on HTTPS, then at least be aware of how many sites in your industry are making the switch.